We Believe in a different approach of building great technology companies, our Manifesto
EVO Venture Partners is an extremely focused venture firm that helps to build the next wave of great companies in the business technology markets. We are company builders. We are not portfolio managers. We limit the number of investments we make so that we can dedicate our resources to the success of each.
Our belief draws heavily on our combined 70 years of experience in the cloud and datacenter world, our work as operators and entrepreneurs and our joint activity as individual investors makes us founded the new evolution in venture capital.
We limit our investments to a select few categories where we have deep experience and relationships and see the potential to build consequential companies that are category-defining. What this means for you is access to unique resources and within our circle of trusted friends and a gateway to Europe, USA and Asia.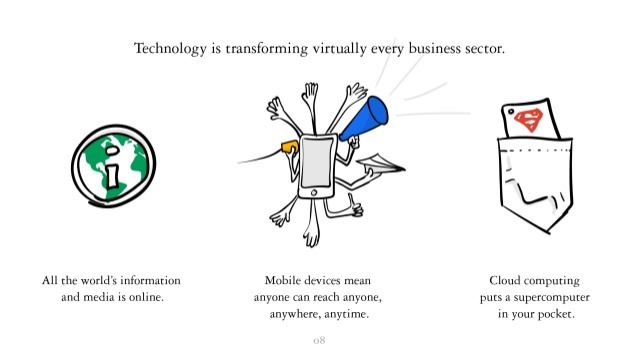 THE PERFECT TIME FOR BUILDING A TECHNOLOGY COMPANY
We believe that it's a great time to build a business technology company. Data, Mobile and Cloud are driving a wave of change at a scale that we see only once in a generation. It is bigger than anything we've seen before and creates massive potential for innovators with great ideas. We look forward to working with founders and their early teams to lead this change and build companies that matter.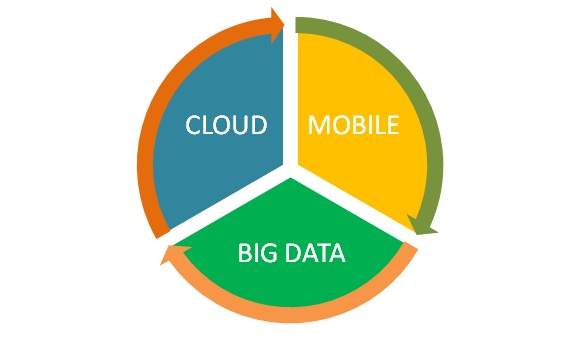 NEW EVOLUTION
Looking at the history of our industry, we notice a pattern of transformations every 15 years or so. Each time, the number of computing devices within the new model increases by an order of magnitude, and overall IT industry revenue sees a corresponding 10x increase. While businesses are keenly aware that Data, Mobile and Cloud is their future, very few have yet transitioned much of their IT investment. Indeed, the steepest part of the growth curve is yet to come.
THE INFRASTRUCTURE OPPORTUNITY
The long term goal for us as technology investors is to help build great companies that last. A company that addresses a real customer pain with a revolutionary solution that can help shape its industry. In the IT infrastructure space, real changes are taking place as the previous limitations of hardware is removed by the flexibility of software.
Among the many changes the IT industry is going through, I believe that we are entering a phase which will see two interlaced technology waves generate great opportunities – in particular, the moving of mainstream and legacy applications into a hybrid cloud model in which these applications will be spread concurrently between private data centers and public infrastructure providers such as Amazon AWS.
Smaller companies, dev/test scenarios and new projects that don't usually touch the core of a business should all seek what benefits they can achieve from public cloud infrastructure providers. Larger organisations with core business applications and large production workloads will have a harder time leveraging public cloud resources for many reasons such as security, investment protection, compliance requirements and very large operational data sets.
The next big opportunity is focussed on opening the public cloud infrastructure for organisations that are locked out of this phenomenon and who are missing out on the clear benefits of the infrastructure-as-a-service (IaaS) model, such as agility, better economics, leverage of resources and a pay per use model.
The benefits of being able to tap into the public cloud on demand are obvious. Use cases for these capabilities are many: among them is cloud bursting when business needs require more resources than are available in the privately owned data center or integration of legacy, on premise applications, with new cloud services.
SOFTWARE IS EATING HARDWARE
In parallel, the growing adoption of software based infrastructure elements which replace hardware components and support the movement to a hybrid environment, clearly change the way data centers are being built these days. The infrastructure components can reside in both a private data center and in the cloud as well as traverse between the two locations. Examples of such network elements are application routing, load balancing and security services, traditionally provided by dedicated 'boxes' now being replaced with light software elements such as NGNIX, HA Proxy and SDN related applications.
Software defined networking (SDN) is being adopted at an increasing pace, and opens new opportunities for the delivery of complex and innovative services by software-based network elements.
EARLY STAGE INVESTMENTS
EVO Venture Partners is focused on active early-stage investing where our opportunity for impact is the greatest. We commit to our teams with a Series A and/or seed investment, and remain deeply engaged throughout the life of the company.
NEW VENTURE MODEL
When we founded EVO Venture Partners, we set out to build a very specific kind of venture firm with a distinctive set of attributes. At the top of the list is thought leadership. We characterize our goals not in terms of volume but in terms of excellence. Our sole mission is to help build billion-dollar, independent companies in the business markets. Our own long experience in this domain is a rare asset and a great starting point, but we have more in mind. Working closely with other members of EVO's team, we will develop insights that are actionable for the firm and for the companies it invests in.